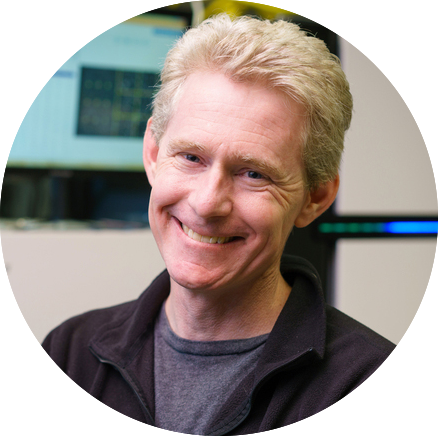 Joseph DeRisi, PhD, serves as the current director of PBBR. He is also the Co-President of the Chan Zuckerberg Biohub and a Professor in the Department of Biochemistry and Biophysics at UCSF. He employs an interdisciplinary approach combining genomics, bioinformatics, biochemistry, and bioengineering to study parasitic and viral infectious diseases in a wide range of organisms, for the purpose of discovering and studying novel or unrecognized biothreats. Early work in his lab contributed to the identification of the SARS coronavirus in 2003. In a parallel effort, Dr. DeRisi studies P. falciparum, the causative agent of the most deadly form of human malaria, in order to develop faster, better therapeutic options. Dr. DeRisi was one of the early pioneers of DNA microarray technology and whole genome expression profiling and is nationally recognized for his efforts to make this technology accessible and freely available.
In 2004, he was chosen for a MacArthur Fellowship. In addition to being a Searle Scholar and a Packard Fellow, Dr. DeRisi has received the Heinz Award in Technology, the Economy and Employment, and was named an Eli Lilly and Company Research Award Laureate. He was elected to the American Academy of Arts and Sciences in 2015, and the National Academy of Sciences in 2016, and the National Academy of Medicine in 2017.
He received a B.A. in Biochemistry and Molecular Biology (1992) from the University of California, Santa Cruz, and a Ph.D. in Biochemistry (1999) from Stanford University prior to joining the UCSF faculty as a Sandler Fellow in 1999. Dr. DeRisi was a Howard Hughes Medical Investigator from 2006-2016, which he left to take on the role of Co-President of the Chan Zuckerberg Biohub, a non-profit medical research organization affiliated with UCSF, UC Berkeley, and Stanford University. Dr. DeRisi is continuing to pursue efforts toward data-driven diagnostics for infectious disease, and recently, autoimmune disorders as well.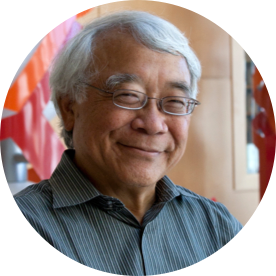 Keith Yamamoto, PhD, served as the director of PBBR for more than 18 years. Dr. Yamamoto has dedicated his career to improving the practice of science and amplifying its impact beyond the walls of academia.
As a Princeton University graduate student in the early 1970s, Dr. Yamamoto helped his mentor, Bruce Alberts, PhD, start a program to introduce the excitement of biological research to Trenton, N.J., high school students. In that politically volatile time, he also participated in Vietnam War protests and took a leave of absence to work full time on George McGovern's presidential campaign. Those experiences introduced Dr. Yamamoto to the challenges of working with people who see the world differently and to the idea that scientists had a bigger role to play in advancing their own work and bringing the benefits of science to the world at large.
When he joined UCSF in 1976, Dr. Yamamoto continued pursuing those values – as chair of the Department of Cellular and Molecular Pharmacology, vice dean of the School of Medicine, vice chancellor for research, and the university's first vice chancellor of science policy and strategy. Throughout his career, he has continued to conduct breakthrough basic science research. His work has been recognized with many awards, including election to the National Academy of Sciences and the National Academy of Medicine.
Dr. DeRisi and Dr. Yamamoto are tremendously grateful to Herb and Marion Sandler, whose visionary philanthropy laid the foundation for PBBR in 1997.
External Scientific Advisory Committee
Sir Paul M Nurse, PhD
Francis Crick Institute, London
Nobel Prize in Physiology or Medicine, 2001
Eric Kandel, MD
Columbia University College of Physicians and Surgeons
Nobel Prize in Physiology or Medicine, 2000
Huda Zoghbi, MD
Baylor College of Medicine